Pointillism? Dadaism? Modern? Portraiture? What's your favorite style of art? Maybe one style speaks to you or maybe you find something in all works of art that can be found in museums around the country. Perhaps that's the purpose behind November's Go to An Art Museum Day – you discover and explore the many genres created to delight the eye, among other senses. And while November 9 is the date of this celebration, we think any day is a good day to visit an art museum.
Sacramento: The Crocker Art Museum, in California's capital city, is home to a collection of California art dating from the Goldrush to present day. Exhibits also include one of the largest international ceramics collections in the U.S. The museum has the distinction of being the oldest art museum in the U.S. west of the Mississippi River. The museum's collections are on display both in the original Crocker Mansion and Art Gallery, which dates to 1872 and is both a California Historical Landmark and listed on the National Register of Historic Places, as well as in the Teem Family Pavilion which was completed in 2010.
Both Snowflower and Lake of the Springs are a little over an hour from Sacramento. Choose from cabins, yurts, and cottages based on your destination.
Santa Barbara: The California city of Santa Barbara itself can be considered a work of art from the beautiful Spanish-revival architecture to the breathtaking sunsets, but this ocean-side getaway is also home to two wonderful art museums. The Santa Barbara Museum of Art (sbma.net) is home to a collection of art that spans more than 4000 years while the Museum of Contemporary Art Santa Barbara (mcasantabarbara.org) exhibits some of the best in contemporary works and offers free admission.
Book a cabin, covered wagon, or western themed cabin at Rancho Oso to be near the SB art museum scene.
Miami: Florida's vibrant city of Miami is another location that can itself be considered a work of art thanks to its Art Deco architecture and the colorful palette of these historic buildings. However, Miami is also home to plenty of art museums, each offering something different. The Bass, housed in the city's former library, focuses on contemporary art as does the Rubell Museum, whose collection includes works by Keith Haring and Jeff Koons. The Museum of Graffiti specializes in street art and exhibits include an interactive field trip featuring outdoor murals around the museum's location. Exhibits and collections at the Wolfsonian-FIU focus on functional art and design and include furniture, graphic design, and advertising pieces.
To explore Miami's art museums, book a cabin stay at nearby Miami Everglades.
Nashville: Speaking of Art Deco, Nashville, Tennessee's Frist Art Museum is currently featuring the exhibit "American Art Deco: Designing for the People, 1918-1939" that includes approximately 140 objects from the Art Deco era. The exhibit runs through January 2, 2022. The Frist is also home to the Martin ArtQuest, an interactive, hands-on art experience. If poster art is your thing, don't miss Hatch Show Print, which offers tours and how-to demonstrations highlighting the famous show and event posters created by Hatch for more than 140 years (hatchshowprint.com).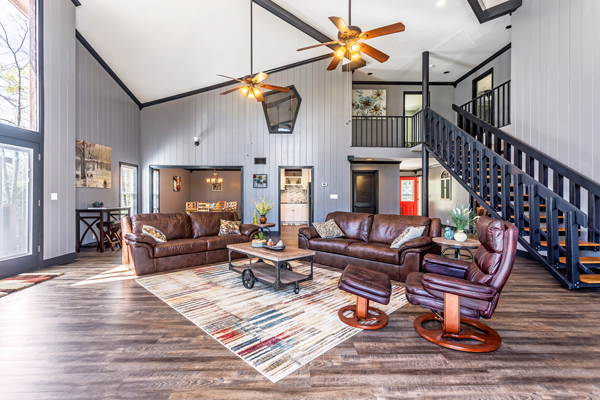 Choose a Petite Retreat accommodation such as a tiny house or cabin at Natchez Trace for your Nashville art tour.
Read More: