Planning a trip to one of the prettiest peninsulas in the country? We're talking about California's Monterey Peninsula which has it all – great spots for outdoor fun, interesting cultural and historic sights, some wineries, some beaches, some small town charmers and, of course, Marina Dunes – the ultimate glamping location in the area that offers spacious cottages and brand new yurts! We found five fun things to do if you're heading there:

1. Get Outside: You don't visit this breathtaking, sunny, almost-always perfect weather location to stay indoors. Some outdoor adventure ideas include Asilomar State Beach, Elkhorn Slough, and the Path of History. Asilomar State Beach is where you will find the Asilomar Coast Trail, a 3.6 out-and-back trail along the rocky coast which is great for birding as well as viewing marine life and wildflower views. Take a nature safari at Elkhorn Slough and explore one of California's largest wetlands, which is home to sea otters, harbor sea lions, and over 300 bird species. Tours last 1.5 to 2 hours and can be scheduled at elkhornslough.com. The Path of History is a unique way to learn the history of Monterey. This is a self-guided, roughly two-mile walking tour through the city that highlights historic structures as well as locations of historic events. For a detailed map, visit seemonterey.com. Or, follow the yellow tiles through town!
2. Storybook Homes: A trip to the beautiful Monterey Peninsula can seem to some like a fairy tale come true. What might make it seem even more so is a tour of the Storybook Cottages in the area. Designed by American designer and master builder Hugh Comstock in the 20s, 30s, and 40s, these are one-of-a-kind real life homes that look just like storybook cottages. Roughly 21 of the storybook homes remain in Carmel-by-the-Sea and a visit to the Carmel Visitor Center on Ocean Avenue will get you a map of them. Most of them are private residences so only the outside can be viewed, but The Tuck Box, an English tearoom, and the candy shop, Cottage of Sweets, are open to the public and are found in town.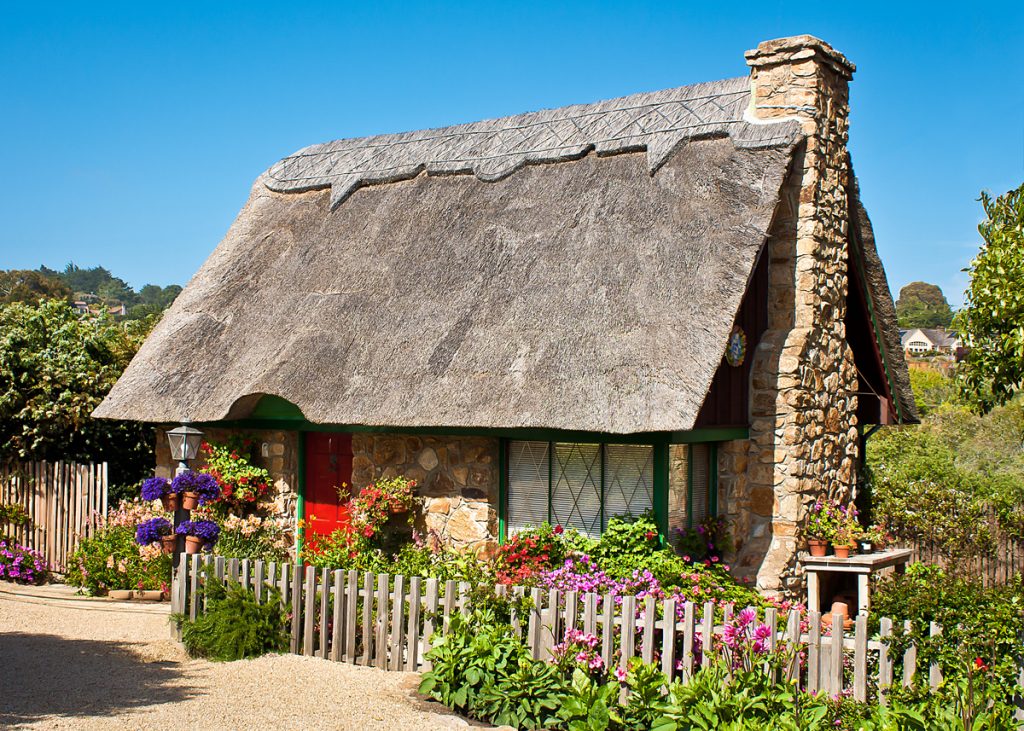 3. Carmel Valley Wineries: There are many interesting ways to sample the wines of the approximately 20 wineries that make their home in the Carmel Valley. For instance, there is the Carmel-by-the-Sea Wine Walk, a self-guided walking trail (carmelcalifornia.com/carmel-by-the-sea-wine-walk) around the lovely town or there is also the 5-hour, all-in with food and wine private trolley tour offered by toursmonterey.com. If you love the storybook homes, you may enjoy a visit to Folktale Winery and Vineyards, which is committed to 100% organic farming or if you're looking for a French flair, Joullian Vineyards might do the trick. Georis Winery offers an adobe-style tasting room and the rustic Cowgirl Winery might be good for a gal's trip tasting!
4. One of a Kinds: There are some experiences that can only be found in Monterey. For example, the Monterey Moon Tree was actually grown from seeds that were taken into space by Apollo 14 Command Module Pilot Stuart Roosa. Roosa wanted to see what the effects of a trip to the moon could potentially have on the seeds. See the results for yourself – the coast redwood, aka The Moon Tree, can be found in Monterey's Friendly Plaza, a small park near City Hall. Do you like bagpipes? Do you enjoy a good sunset? Combine them both with a one-of-a-kind experience at The Inn at Spanish Bay where each evening, rain or shine, a bagpiper comes to the first tee about 45 minutes before the sunset begins, and then strolls to the second tee and continues to play until the sun is set. Quite a lovely setting.
5. The Steinbeck Center: The National Steinbeck Center is dedicated to the legacy of author John Steinbeck, who was born in Salinas, the seat of Monterey County. The museum has an interesting array of displays depicting Steinbeck's life and most famous books including The Grapes of Wrath, East of Eden and Cannery Row (steinbeck.org). The Center offers more than just the history of John Steinbeck, but also provides exhibits that detail the agricultural and art history of the area. Another interesting Steinbeck experience could be a tour of his birthplace and boyhood home which is also a restaurant (steinbeckhouse.com).
Read More: