Let's face it, we've got some great coastlines in this country. There's the Pacific Coast that stretches from way up north in Washington down south to San Diego, California; there's the rugged coastline of New England, the Florida Coast, the Gulf Coast, and on and on. And that means lots of choices for coastal drives. If you're looking to glamp and do a coastal drive, consider these two options:
California 1 (Monterey to Santa Barbara): Spend a few days glamping in a cottage or yurt at Marina Dunes and prep for your scenic drive to your next destination in Santa Barbara. The distance between Monterey and Santa Barbara is approximately 250 miles and there is plenty to see along the way. While in Monterey, don't miss historic Cannery Row, Monterey State Historic Park, and the Monterey Bay Aquarium. Heading out, you may want to start the day right with a quick morning hike at Pfeiffer Falls in Big Sur and then head south. If you're interested in how the mega-rich lived back in the day, stop at San Simeon, and take an early tour of the Hearst Castle (plan ahead by visiting hearstcastle.org). Hop back on the road and plan a stop at Morro Bay to see a simpler life as the harbor seals frolic just offshore. A shot of Morro Rock is definitely an Instagram-must. Lunch in the hip San Luis Obispo where possibilities include High Street Deli & Market or the Madonna Inn Copper Café and on to Santa Barbara – unless you want to make a stop in Solvang – an absolutely delightful town oozing Danish charm with its shops, architecture, Danish cuisine, and wineries. Now settle in for a few days and enjoy Santa Barbara attractions including the Santa Barbara Zoo, at least one sunset from Stearns Wharf, and possibly a tour of the Santa Barbara missions.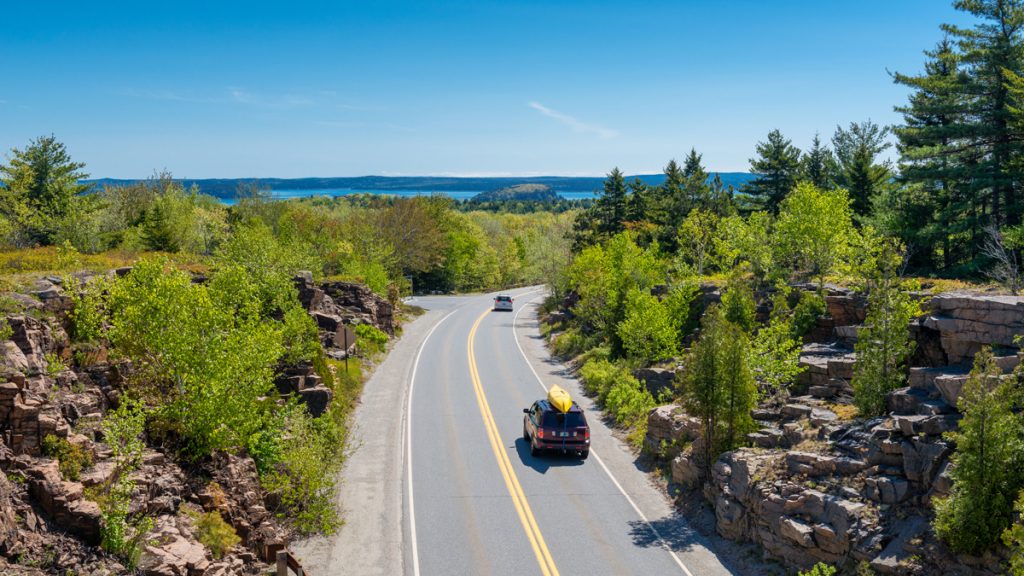 Route 1 (Wells, Maine to Bar Harbor, Maine): Start your trip with a few well-spent days in a glamping cabin at Thousand Trails Moody Beach in Wells, which should be all about Ogunquit Beach. The expansive beach with scenic views was voted a top-25 beach in 2021 by TripAdvisor Travelers. When you're beached-out, get set for charming Bar Harbor, approximately 221 miles north. OK, so the first stop is almost immediate, but Kennebunkport is worth a look-see. The rustic stone St. Ann's Episcopal Church, dating back to 1887, is one don't miss, while the Goat Island Lighthouse on Cape Porpoise is another. Further up the road apiece is the state's first lighthouse, Portland Head Light at Fort Williams Park. Don't miss the opportunity to try a potato donut (an invention during the Depression) at The Holy Donut, with two locations in Portland. Now, settle in for about two hours before you reach Bangor and get ready to snap a pic or two of the 31-foot statue of Paul Bunyan, the lumberjack hero of both American and Canadian folklore. While in Bangor, check out the Victorian mansion that is home to the Stephen and Tabitha King Foundation – pay special attention to the front gate with its wrought iron bats and spider web. King is a Bangor native and did live in the house at one time but does not any longer. Charming Bar Harbor awaits for your next glamping destination (glamping rentals at Mount Desert Narrows and Narrows Too are perfect for this trip) and things to do include a visit to Acadia National Park, a whale-watching cruise, the Land Bridge to Bar Island, and maybe a Savor Bar Harbor Culinary tour (mainedayadventeures.com).
Read More