Just as surely as the sun rises, you can guarantee winter comes knocking each year in late-December. And for some who are fortunate to live year-round in areas that don't really experience winter, it's just another date on the calendar. But for others, it's time to head towards the sunshine. And, even if you are lucky enough to live where the sun always shines warmly, a change of scenery is always good to chase away the winter doldrums. Here are a few ideas for fun in the sun winter escapes.
Arizona: If Sedona is your home base, day trips to the Grand Canyon (about a 2-hour drive north), the Phoenix/Scottsdale area (about a 2-hour drive south) and the Petrified Forest National Park (about a 2-hour drive east) are all possibilities. Of course, the Grand Canyon is the Grand Canyon, but there are other things to do here. There is the 22-mile Desert View scenic drive, wildlife to glimpse, and the Grand Canyon Railway Adventure which is a scenic train ride to the Grand Canyon that originates in Sedona. If you're a baseball fan, then you'll be happy come winter when Major League Baseball's Cactus League begins their games in stadiums in the Phoenix metro area. If you're not a baseball fan, Scottsdale has plenty of hiking opportunities including Camelback and Pinnacle Peak. Plus, there's shopping, arts and entertainment, and plenty of good eating to be had here. The Petrified Forest, named for the large amounts of petrified wood found here, is home to the Rainbow Forest Museum and the petroglyphs on Newspaper Rock and may also seem familiar to Clint Eastwood fans as parts of his famous film, "The Outlaw Josey Wales" were shot here. Verde Valley is the place to reserve your winter accommodation where you can choose to day trip or just enjoy the local scene.
California: Rarely, if ever, do California beaches post "Closed for the Season" signs. The ocean water may be colder than most prefer, but the warm California sun is pretty plentiful and of course, anything but mountain snow is rare. Yosemite National Park is less crowded but still just as breathtaking in the winter months, so consider a stay in an ultra-cool yurt at Yosemite Lakes. The Park's Badger Pass Ski Area offers winter skiing opportunities. Cross off your bucket list item to "stay in a tipi or covered wagon" this winter with reservations for these unique accommodations at Rancho Oso and then explore winter in Santa Barbara. The Santa Barbara Zoo, a mission tour, a visit to the Santa Barbara Botanical Garden, or a tour of the local wineries can all add up to winter fun.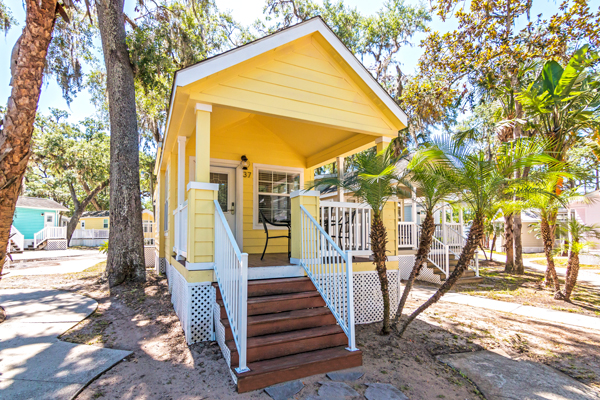 Florida: Warm days and cool nights give the Florida-bound winter vacationer the best of both worlds. Days are sunny with temps averaging around 70 degrees while nights are sweater-weather worthy with average lows in the '50s. The only shovels required during a Florida getaway are those used to build sandcastles on the fabulous beaches around the state that include Daytona, Fort Lauderdale, Fort Myers, and St. Pete Beach. Consider a trip to the Keys and a stay at the Sunshine Key Tiny House Village or a colorful cottage right on the water at Fiesta Key. On the Atlantic side, visit historic Flagler Beach or enjoy the sights and sounds of Miami. Accommodations at Bulow Village RV Resort and Miami Everglades are great locations for these. Wanna do Disney? Book a stay at Tropical Palms, Lake Magic, or Orlando RV for all things Disney and beyond. Check out petiteretreats.com to find your ideal Florida location.
Read More: