The Rio Grande Valley in Texas is for the birds, literally. It is home to the World Birding Center, which is a network of nine different birding sites. But there is so much more to this area of South Texas and we'll give you just five reasons why people flock here come winter.
1. The Nature: With winter weather temps averaging daytime highs between 70 and 80 degrees, it makes sense to be outdoors as much as possible. Some outdoor highlights include The Gladys Porter Zoo in Brownsville, which has more than 1500 species of animals in mostly open-air exhibits, or the National Butterfly Center in Mission, which is set on 31-acres and is great for a butterfly experience among the lush plants of the Valley.
2. The History: Plenty of museums in the area detail the rich history of the Valley. Check out the Museum of South Texas in Edinburg, with exhibits and collections that detail the history of the land from the prehistoric age to the cattle ranches, or the Heritage Museum in Brownsville. Also in Brownsville is the Palo Alto Battlefield National Historical Park, which was the site of the first conflict of the Mexican-American War. Harlingen has the Iowa Jima Monument and Memorial Museum honoring the WWII battle.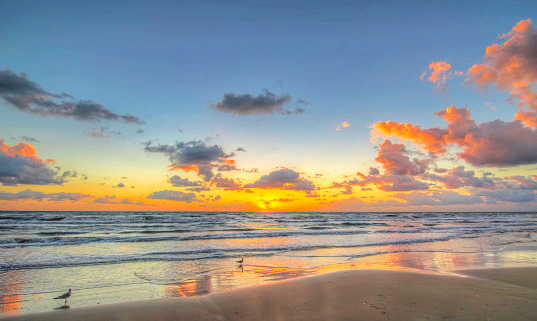 3. SPI: If you're not familiar with SPI, then you will definitely want to check out what South Padre Island, aka SPI, has to offer when you're visiting South Texas. Hit the beautiful beaches and dip your toes in the warm waters of the Gulf of Mexico. Or see how injured sea turtles are rehabbed at Sea Turtle, Inc. Enjoy amazing seafood, or take a sunset dinner cruise. For more ideas on how to enjoy South Padre Island, visit sopadre.com.
4. Outdoor Fun: Take a hike on one of the four hiking trails located in the Santa Ana Wildlife Refuge, all of which are considered easy treks. This 2008-acre wildlife park is great for glimpsing birds as well as butterflies and other wildlife. Head to South Padre for water sport fun including parasailing, scuba-diving, and fishing. Plenty of top-rated bike trails can be found in the Rio Grande Valley, too. The Bicentennial Hike and Bike Trail in McAllen is one option and the bike trails in Resaca de la Palma in Brownsville are also great option (these trails are part of the World Birding Center).
5. The World Birding Center: We just couldn't highlight the great things to see and do in the Rio Grande Valley without mentioning the jewel in the crown here, which is of course, the World Birding Center. Within the nine unique birding sites there's plenty to see and do here. There is a five-story tower for viewing, plenty of walking trails, a 3300-plus foot boardwalk, bird blinds and of course plenty of birds to view including peregrine falcons, hawks, orioles, and warblers. Visit theworldbirdingcenter.com for all the details.
Read More: