It's been awhile, but think back to early January 2021. What resolutions did you make then? What about that 2021 Bucket List? Is everything crossed off? If not, we've got a few ideas on how to clear the slate to get ready for your 2022 list.
See a National Landmark: In a list of the Top 10 National Landmarks compiled by flightcentre.com, two are nearby to our locations that enjoy year-round visitors. Those include Hoover Dam (less than 35 miles from cozy cabins at our Las Vegas location); and the iconic Space Needle in Seattle (less than 30 miles from the yurts and cabins at Tall Chief RV & Camping Resort). Another must-see landmark is the historic Alamo, in San Antonio, Texas, which is less than an hour from the cabins at Medina Lake.
2. Drive an Iconic Highway: A drive on the 100-mile-plus engineering marvel known as Florida's Overseas Highway will take you from the southern tip of Florida down to the Florida Keys with the beautiful waters of the Atlantic Ocean and Gulf of Mexico all around you. Choose to stay two hours north of the road's starting point in a cabin at our Miami Everglades Resort or stay at one of our Keys locations, Sunshine Key or Fiesta Key. Enjoy a glamping experience in a cottage or glamping tent at California's Marina Dunes and enjoy an equally glamorous experience along the 17-Mile Drive that includes charming towns, woodlands, and ocean views along the Monterey Peninsula.
3. Learn a new skill: 'Tis the season to don a pair of snowshoes and tackle this winter sport. Consider a stay in a snow covered cabin at Tahoe Valley in California's Lake Tahoe area and learn how to traverse and glissade with the best of them. Stalk the striper and try your hand at catching hybrid striper bass in the winter waters of Texas' Lake Conroe. Book a stay in a cabin at Lake Conroe RV & Camping Resort in Willis and see what you can catch. How about hopping on a "fat bike" and tooling around the snowy trails available near Leavenworth, Washington. Book a tiny house at Leavenworth Tiny House Village to go along with your fat bike experience!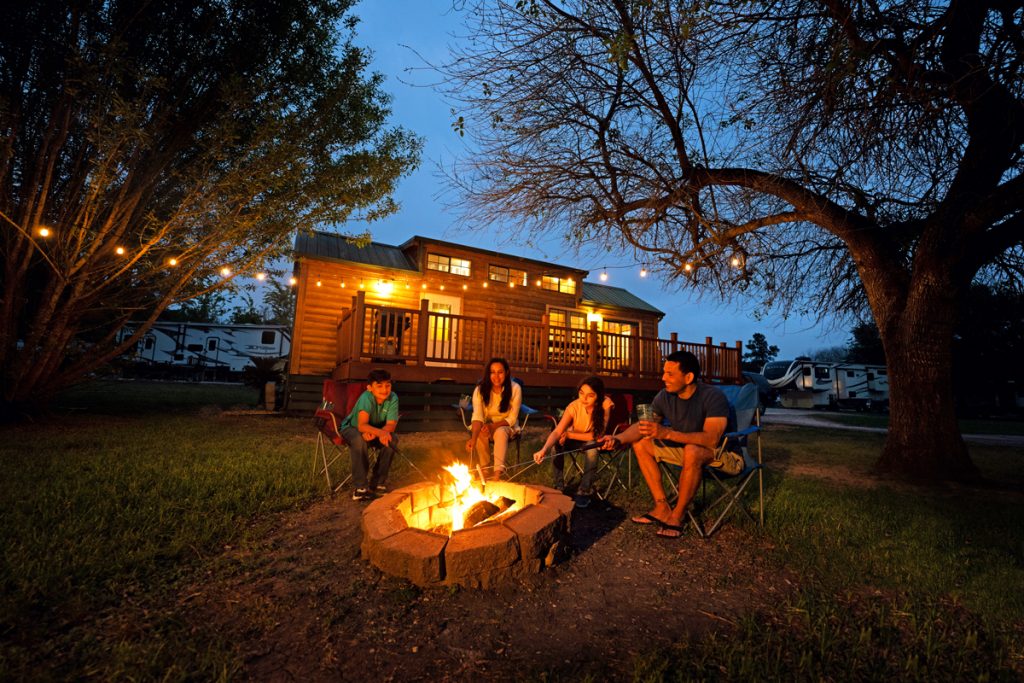 4. Girls' Trip, Guys' Trip, Family Trip, Couples' Trip: Whichever one remains on your list unchecked, Petite Retreats has locations that can satisfy any of them (or all if you've got the time). Perfect family trip locations can include Orlando and all the theme park fun (book a stay in a colorful cottage at Tropical Palms Resort in Kissimmee, Florida) or Yosemite National Park in winter with all its activities (try a yurt at Yosemite Lakes RV Resort in Groveland, California); California's wine country and a girl's trip are a perfect match and a cabin or cottage accommodation at Russian River is the perfect wine country girl's getaway home base. Nashville is great for girls, guys, and family fun depending on the activities you choose – there are bars and honky tonks, historic sites, museums, and outdoor adventure to be found here – and any of the rental cabins at nearby Natchez Trace work for all of these groups. Guys trip options could include the casinos and nightlife of Las Vegas (stay in a cabin or cottage at our Las Vegas location) or deep-sea fishing charters in the Florida Keys (Sunshine Key Tiny House Village is a great option as they run charters from the resort). Looking for romance? Check out the tiny house and cabin accommodations at Verde Valley in Arizona's scenic and transformative Red Rocks country or a cozy cabin at Rancho Oso RV & Camping Resort in Santa Barbara and explore this charming California oceanside town with its wineries, architectural tours, and romantic sunsets.
Read More: