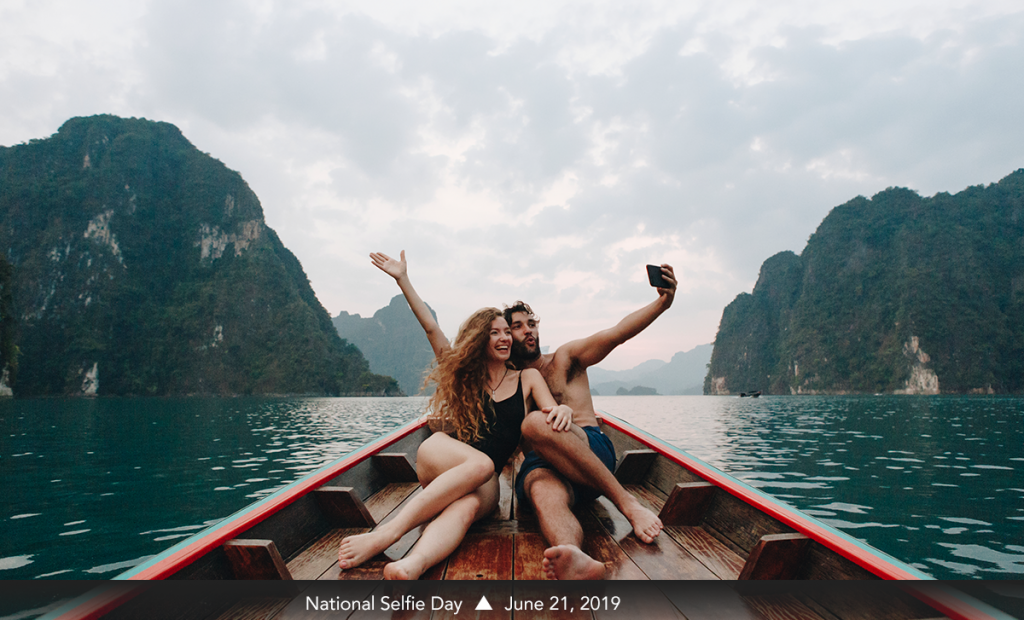 June 21 is National Selfie Day. Established in 2014, this day, according to NationalCalendar.com, was designed to "encourage people to take creative (appropriate) selfies and share them on social media." Of course, this may be something you do on a daily basis, so maybe on National Selfie Day you should go all out and make sure your post is amazing! One way to do that is to make sure wherever you're snapping the perfect pic of yourself offers outstanding scenery.  We've listed a few of the more iconic locations to provide the perfect selfie backdrop. Also, if you choose to participate, you should post your pic on social media with the tag #NationalSelfieDay.  For more information, visit www.nationalselfieday.net.
The Hollywood Sign: Located in Los Angeles (and just an hour from Soledad Canyon), this American landmark is 352 feet long and spells out the word HOLLYWOOD in 45-foot tall letters. A star is born, for sure!

The Washington Monument: While the monument itself is closed for repairs until August, you can still stand in the forefront and get a great shot with this 555-obelisk built to commemorate George Washington. Conveniently, Harbor View is about 65 miles from Washington D.C.
The Golden Gate Bridge: San Francisco's iconic suspension bridge is a great backdrop for a selfie. Hike up Hawk Hill, located in the Golden Gate Recreation Area, for a perfect shot.
Disneyworld: A perfect selfie would include Cinderella's Castle in the background as you smile broadly with Mickey and/or Minnie to complete the shot. The colorful cottages at Tropical Palms are just 10 miles away from the Magic Kingdom.

Welcome to Fabulous Las Vegas Sign: A Vegas landmark since 1959, this 25-foot tall neon masterpiece marks the entry to the famous Las Vegas strip. Stay in a cabin at Las Vegas to prep for the perfect pic.
The Bean: Chicago's Cloud Gate sculpture, also known as The Bean, is a popular selfie backdrop. Located in the city's Millennium Park, selfie snappers have been known to get very creative when taking pics with this mirrored landmark.
Cheers Bar: Go where everybody knows your name, or at least your social media handle after you post a pic of yourself with the famous Cheers sign in the background. Head to Boston's Beacon Hill neighborhood to find this iconic sign. It is located across from Boston's Public Garden, which provides some great selfie shots, too!  The Tuxbury Tiny House Village is located just an hour from downtown Boston.
Hersheypark: Visit Hersheypark and keep your eyes peeled for an opportunity to take a pic with life-sized candy characters, including a Hershey Kiss, a Reese's Peanut Butter Cup or a Hershey Bar. The cabins at Hershey are less than 30 miles from Hersheypark. These are guaranteed to be some sweet shots.
The Parthenon: You don't have to travel all the way to Greece to get this shot. Instead, head to Centennial Park in Nashville and snap a shot in front of this full scale replica of the original in Athens. The adorably themed cabins at Natchez Trace are about an hour from downtown Nashville.

 Chief Passamaquoddy: Take a picture with a 40-foot Indian chief in the background. To do so, head to Freeport, Maine (which is about 60 miles from Moody Beach) and you'll find him standing tall along Route 1. He is also known as the Big F Indian.