Of course, glamping is good for the soul as it provides the opportunity to disconnect from everything and reconnect with nature. It's good for the body too as it lowers stress levels and provides plenty of opportunity for exercise in the great outdoors. Glamping is also good for the senses – and we found some locations that will delight all five of them. Next time you're planning a trip, keep these sense-sational spots in mind.
Touch: Sand – gritty, soft or silky. Tree bark – rough, smooth, notched. Snow – cold and wet. There are so many tactile experiences to be had while glamping. See how the beach feels beneath your feet when you stay Oregon's beach town location of Pacific City or the cold snow falling on your face when you stay in a tiny house at Leavenworth Tiny House Village in winter. How about a healing touch? The vortexes of Sedona are said to provide just that. Book a cabin or tiny house stay at Verde Valley and see if you experience this unique touch of healing energy.
Sight: What can be more picturesque than field upon field of blooming tulips? Check out the Skagit Valley come spring and stay at La Conner. Or, catch the spectacular views from Yosemite National Park any time of year. Plan to stay in a yurt or cabin at Yosemite Lakes and see just how beautiful every inch of this treasure is. The Dry Tortugas in the Florida Keys made the list of the "50 Most Beautiful Places in the U.S. You Can't Afford to Miss" (according to attractionsofamerica.com), so book a colorful cottage stay at Fiesta Key RV Resort and Marina and find out why after a short drive along the Overseas Highway.
Sound: Rolling waves hitting the sand; wildlife sounds in the night, the clip clop of horseshoes, the rustle of the trees – can you hear these sounds? Most definitely if you glamp with us at California's Rancho Oso where guided horseback rides are available. Or, rent a tiny house at the Sunshine Key Tiny House Village and let the sounds of the ocean relax you – it'll be right outside your window. So many of our locations are nestled in the woods or in the quiet wilderness. What about the sounds of camp-side laughter? Wherever you're glamping, gather your crew at dusk and recap the day, tell jokes, and play games to evoke this always-pleasing sound.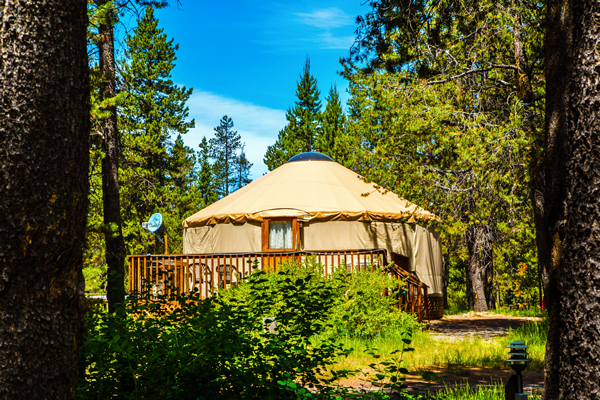 Smell: How about the smell of a pine forest – check into a yurt at Bend-Sunriver and check out Deschutes National Forest, which is home to thousands of fragrant Ponderosa pines. The smell of Seattle's Pike Place Market is a mix of exotic spices, flowers, coffee beans, and more mixing to make it memorable for sure. Add in another yurt experience with a stay at Tall Chief and see how many scents you can identify at one of Seattle's most visited attractions. What about the plethora of smells emanating from a botanic garden? Plan to stay in a cabin at Bay Landing and head into Dallas to experience the scent-sations of the blooms found at the Dallas Arboretum and Botanic Garden.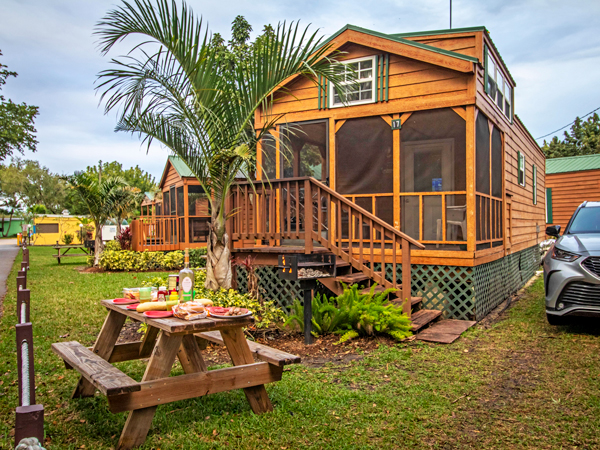 Taste: How do you taste glamping? Well, for our purposes, you glamp near a unique foodie experience. For example, sample succulent Maine lobster when you stay at our Bar Harbor resorts or try an iconic Door County, Wisconsin, fish boil when you stay in a cozy cabin at Tranquil Timbers in nearby Sturgeon Bay. Enjoy the fruits of the sea when staying at our Pacific Northwest locations and taste seasonal Chinook salmon, Dungeness crab, or Oregon Pink Shrimp or oysters. A stay at Natchez Trace means Nashville's culinary treats, which include hot chicken (named for the healthy dose of cayenne pepper used), buttery, flaky biscuits, and the oh-so-gooey and sweet Goo Goo clusters. Miami is all about classic Cuban cuisine which can be experienced through a food tour. Check out miamiculinarytours.com when you stay with us in a cabin at Miami Everglades.
Read More: