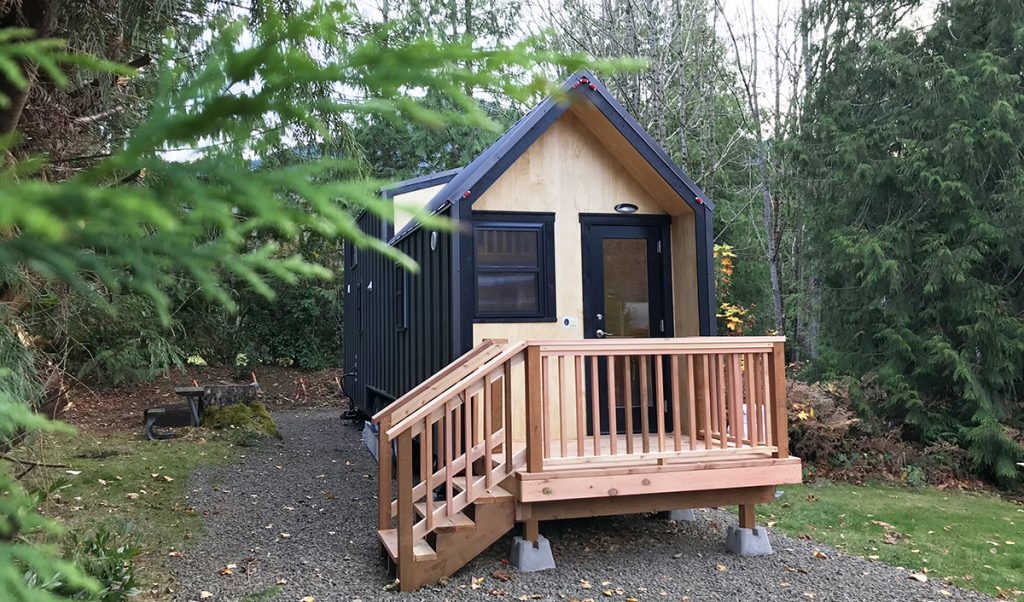 We are so excited to reveal that the Mt. Hood Tiny House Village has grown with the addition of two new tinies. Joining the existing five tiny houses, Zoe, Lincoln, Scarlett, Atticus, and Savannah are Anderson and Ingrid. The perfect complement to the existing gang, Anderson and Ingrid bring their own stories to the Mt. Hood Tiny House Village and provide two more marvelous opportunities to vacation tiny at Mt. Hood.
Anderson is all about the modern design and is a bike enthusiast to boot! For him, it's all about the bike – mountain bikes, comfort bikes, road bikes, new bikes, old bikes. Find him a trail and he'll gladly pedal it! When he's not atop a two-wheeled machine, he's most likely perusing a design blog, with a freshly brewed coffee in hand from his AeroPress. Green and minimalist are two more adjectives to describe this guy and the Pacific Northwest and its vast expanse of greenery and biking trails is Anderson's happy place.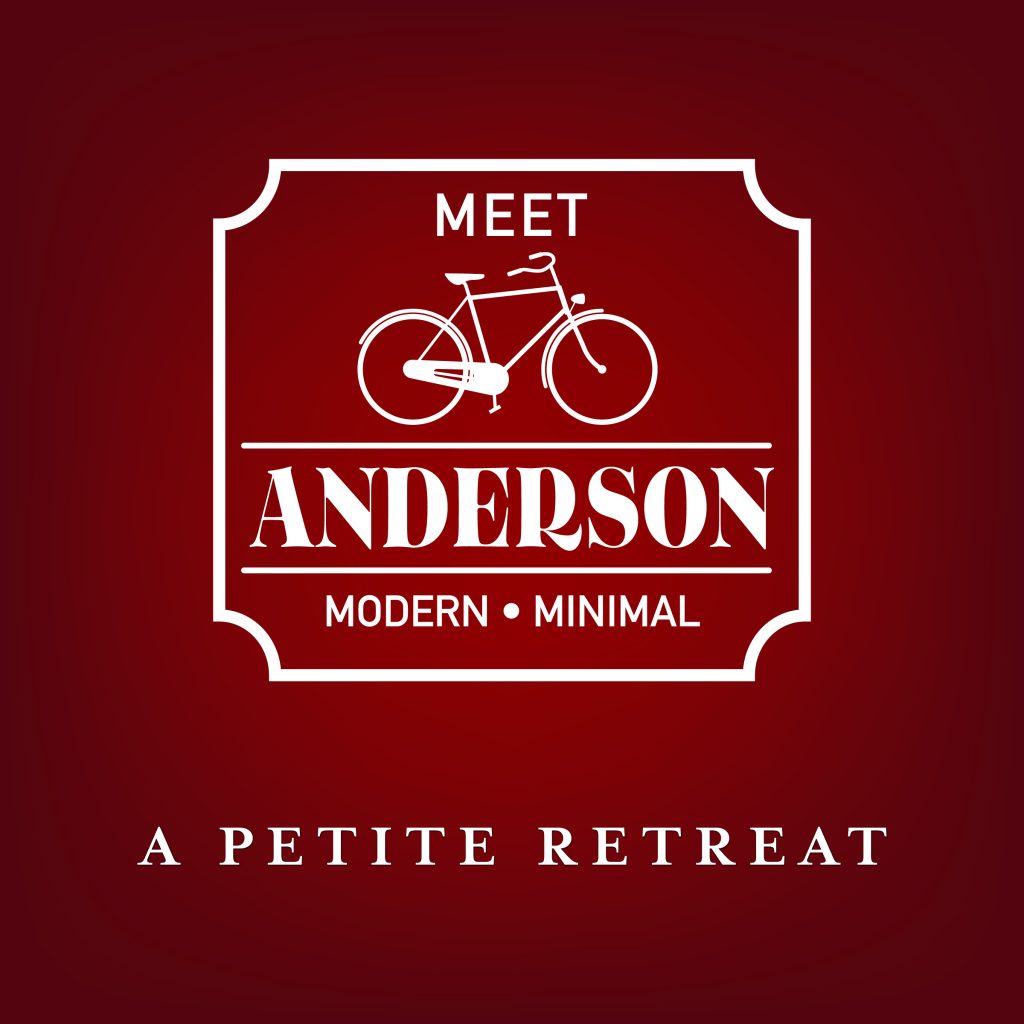 Ingrid can best be described as a book lover but turn back a few pages and you'll find she's so much more than that. A lover of podcasts, craft beer and breweries she's equally at home in a library as well as the great outdoors. She's hard working, curious, and makes it a daily goal to learn something new or see things from a new perspective. An innovator, a reader, and a burgeoning social butterfly, Ingrid is a great addition to the tiny home collection at Mt. Hood.
At a robust 332 square feet, Anderson has room to sleep 7. Cedar plank siding with, of course, a modern design, the tiny home houses a full bathroom, kitchen, and a large living space. Anderson's sleeping situation is two large queen beds in the loft, one queen bed on the first floor and a pullout couch that folds down to a twin bed, also on the first floor. No pets, please.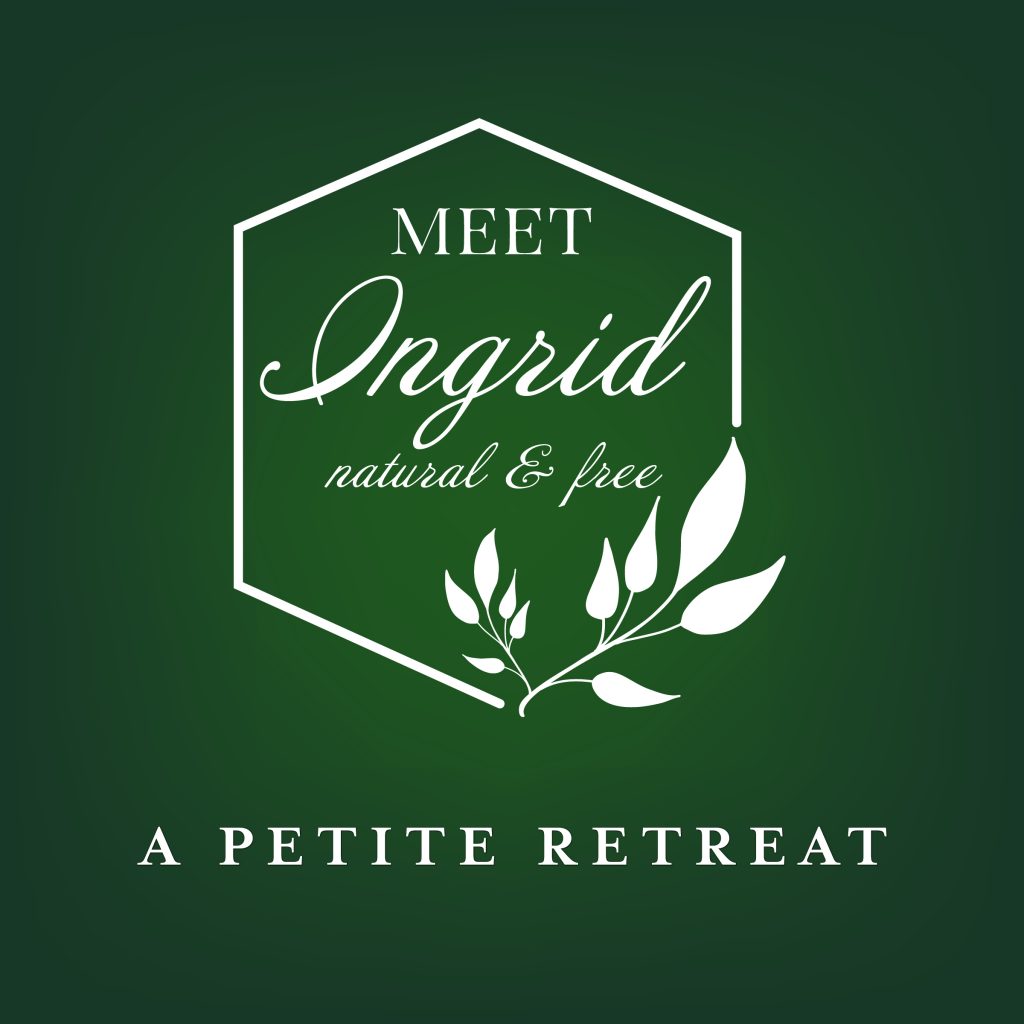 Ingrid, of course, boasts a Scandinavian design with sleek modern lines. At 385 square feet, five can sleep comfortably selecting from two queen/full beds in the loft, and a pullout couch that folds down to a twin bed on the first floor. A full bathroom, large living space, and kitchen add to the charm that is Ingrid. No pets, please. (Lincoln is our pet friendly tiny house!)
Mt. Hood is one of those destinations that is an all-star any time of year. In winter, the draw of the ski hills, snow-laden trails and snow-capped mountain views are the reason to visit while summer brings opportunities for kayaking, canoeing, fishing, and swimming. And again, trails upon trails for hiking, biking and walking in the great Pacific Northwest are a major reason to add Mt. Hood to your to-do list.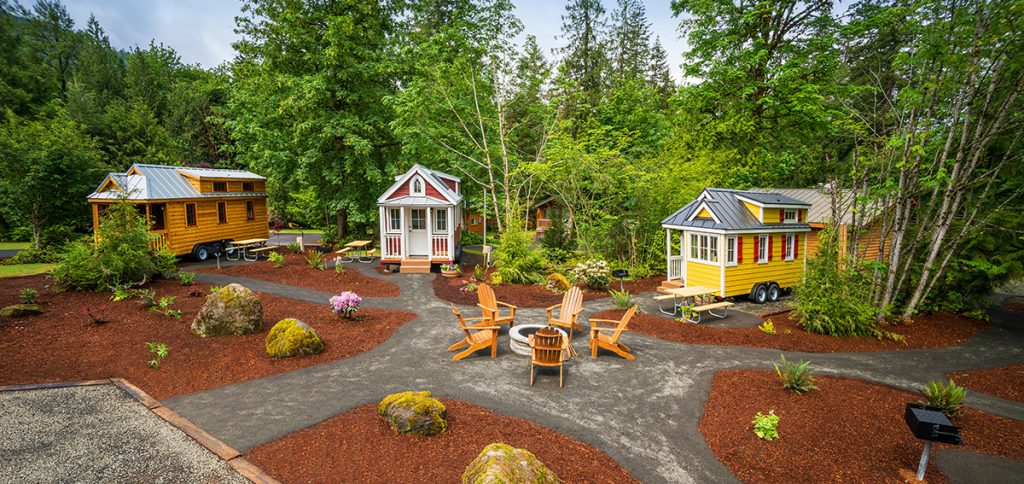 The Mt. Hood area must-dos include hiking the Timberline trail, driving the Mt. Hood Scenic Loop, a visit to the historic Timberline Lodge and exploring the beauty of Trillium Lake.
Don't miss an opportunity to visit this breathtaking location in the Pacific Northwest and to make one of Mt. Hood Village's tiny homes your place to stay when you're here! Visit www.mthoodtinyhouse.com for information on making reservations!