We all know the popularity of camping has taken off in the past few years and more people are camping than ever before. And of course, glamping has gone from a little know activity to being the "only way to camp" for some. So, what's the difference? In reality, you're still camping but glamping notches up the accommodations for sure. Check out some of the best glamping accommodations offered by Petite Retreats.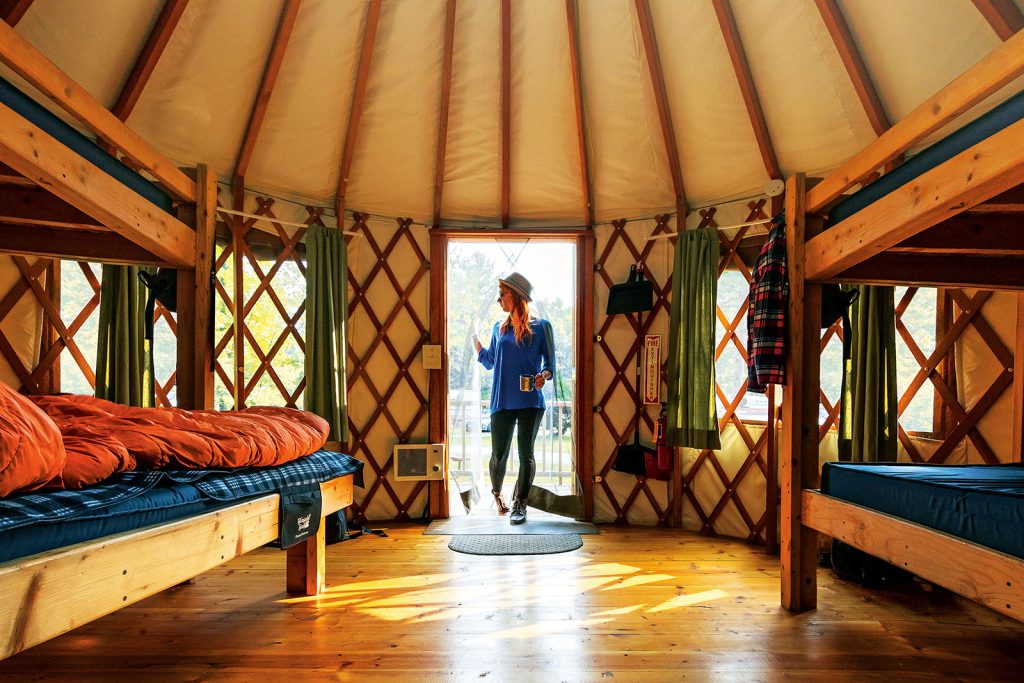 Yurts: These circular domed tents date back to the 5th century and the word yurt actually translates to "home" in many languages. Yurts are spacious yet cozy and the yurts at Petite Retreat locations have kitchens and TVs – just like home! Yurt glamping opportunities can be found in California, Oregon, Pennsylvania, Washington, and Wisconsin. Make it a beach experience and rent a yurt at Oregon's Pacific City or a wooded wilderness adventure at Wisconsin's Tranquil Timbers, on the state's magnificent Door County Peninsula.


Tiny Homes: Tiny homes are exactly that – all the comforts of home but just consolidated into 200 to 350 square feet! The tinies at Petite Retreats locations are decorated straight out of a magazine, located in some of the most popular vacation destinations, and really provide one of the best glamping experiences you may ever have. Our tiny homes have kitchens, bathrooms and sleeping lofts as well as plenty of space for indoor living when you're done with outdoor adventure. From a location standpoint, renting a tiny home near Nashville, Tennessee, the beaches of New Hampshire or the Florida Keys, the woodsy Pacific Northwest, or the gorgeous Arizona Red Rock Canyon are all possibilities.

Completely Unique: Have you ever camped in a covered wagon? Or a real glamping tent? Check out these unique accommodations at Petite Retreats.
The Glamping Tents, located at beautiful Marina Dunes, have queen-sized beds, two bedside tables with lamps, and cozy outdoor spaces, too. With a glamping tent, it's like spending the night in your own bedroom. No need to pitch a tent or blow up the air mattress. When you're done with the day, settle into bed, switch off the lamp and enjoy a comfortable sleep with the moon and stars as nightlights. Marina Dunes is adjacent to the Marina Dunes Preserve and a short drive to Monterey, where attractions include Cannery Row, the Monterey Bay Aquarium and Old Fisherman's Wharf.
The Covered Wagon option is the perfect accommodation when you choose to glamp at Rancho Oso in Santa Barbara. Bedding down in the Covered Wagon at this western-ranch style campground will make you feel like you've gone back in time, except you have electricity. The Covered Wagon has camping cots and plenty of outdoor space for activities, including the glamping favorite: a campfire. Other unique accommodations at Rancho Oso include a tipi and western-style cabins. This is a fantastic location if you want to go to the beach, explore the wine country here, or beautiful downtown Santa Barbara. The campground itself offers a Western Village and horseback riding.
Read More: