It's only been a few short years since the word glamping was added to the Merriam-Webster dictionary. Back in March 2018, the dictionary listed the word with the accompanying definition "outdoor camping with amenities and comforts (such as beds, electricity, and access to indoor plumbing) not usually used when camping." And, according to other linguistic lore, the word itself was first used sometime around 2005. But, some people have been glamping for years while others are wondering what this "glamping" is all about. Consider the following your quick guide to all things glamping:
Why should you glamp instead of camp? If you are a seasoned camper, giving glamping a go may be just the thing needed to change things up. Another reason to glamp is not everyone enjoys tent camping and rising to greet the day after a rough night on the hard ground. Some people are looking for the perfect mix of outdoor adventure with some of the comforts of home.
For the most part, glamping involves a bit more of sleeping structure than the average tent or even those super high-end tents that sleep the whole gang and are "guaranteed" to keep you warm and cozy despite the outdoor weather. To glamp, you might consider overnighting in a yurt, a tiny home, a cabin, or cottage.
There's also the luxury of the indoor facilities that often accompany a glamping trip. No flashlight-required treks to the facilities at 3 a.m. or cold food because the campfire won't light or the camp stove is on the fritz. Glamping rentals typically have indoor bathroom accommodations as well as well-appointed kitchens. Another plus to a glamping accommodation is that many of them have private fire rings, decks, and outdoor areas designated specifically for enjoying the art of socializing.
What are good glamping accessories? Most glampers feel the need to up the ante when it comes to accessorizing and some of the most popular glamp gear includes tablecloths, area rugs, comfy camp chairs, and outdoor string lights and solar lanterns to create the perfect glamping ambience. Food and drink options also take a step up and glamping accessories in this category might include a charcuterie board, an espresso maker or French coffee press, as well as Dutch ovens and other "cuisine" cookware for camp. As for outdoor fun, glamping could include an outdoor projector and screen!
When it comes to glamping activities versus camping activities, they are pretty much the same. Most glamping accommodations are in areas that give the glamper the full opportunity to enjoy the great outdoors. Hike, bike, fish, swim, canoe, or kayak – here's where glamping and camping meet. Take in beauty of nearby national parks, raft the rapids, paddle serene waters, horseback ride or zip through the trees. We have glamping locations near all these great outdoor adventures.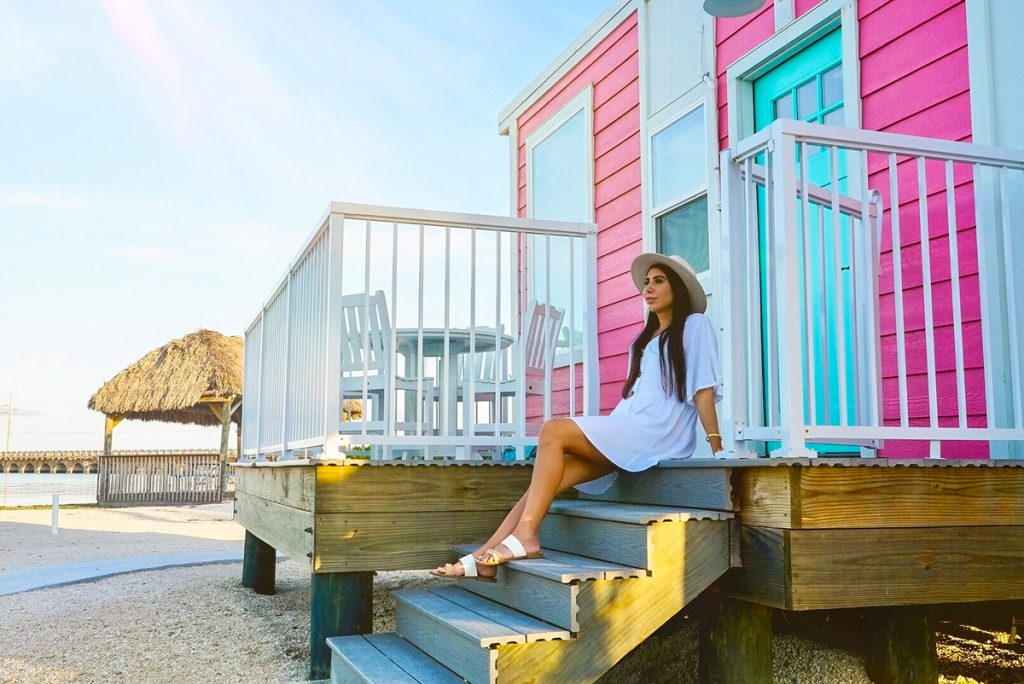 Where to glamp? Try our tiny house options in Leavenworth, Washington, Oregon's Mt. Hood area, near Nashville, Tennessee, or Sedona, Arizona, or the Florida Keys. A spring, summer or fall glamping trip to New Hampshire's Tuxbury Tiny House Village is a plan-ahead trip. Glamping in a yurt can be an option any time of year at several locations in California, Oregon, and Washington State as well as spring through fall yurt accommodations in Pennsylvania and Wisconsin. What about glamping in a teepee? Or a covered wagon? Both are unique accommodations that can be found when glamping with Petite Retreats. Check out our website to see where we have glamping opportunities – whether it's your first glamping adventure or you've been a glamper long before it was an official dictionary entry!
Read More: