March 22 is not a solemn occasion – and yet, there is a recognized national day that falls on March 22; and yes, it should be honored…. but only in the silliest ways you can think of because it's National Goof Off Day. And we think it falls at the perfect time – winter is officially over as the spring solstice began on March 20 which means more glamping and more outdoor fun.
National Goof Off day has been around since 1976 and as for goofing off – the phrase became popular in the mid-1940s as an armed forces term meaning to waste time or loaf. BTW – goof off can be a noun or verb. So, when March 22 rolls around, here are few ideas for any of you goof offs who want to goof off.
Act Like an Animal: Visit one of national zoos and see who can do the best imitations of their favorite animal. The Nashville Zoo at Grassmere has more than 339 species to choose from to try your best at "being an animal." Check out Rowan, the zoo's two-year old giraffe who came to the zoo in October 2021. Or maybe you and your favorite "kid" want to see what the kangaroos are up to at the zoo's Kangaroo Kickabout. Book at stay at one of the tiny houses or cabins at Natchez Trace in nearby Hohenwald.
Build the Best Sand Castle: Challenge your camping mates to a sand castle contest. After all, what's goofier that playing in the sand? Beach worthy glamp options include a tiny house at Sunshine Key Tiny House Village or a cottage at Fiesta Key – both located in the Florida Keys. Sand castle experts recommend using moist sand – if a ball of sand stays together while you roll it around, it's perfect for castle construction!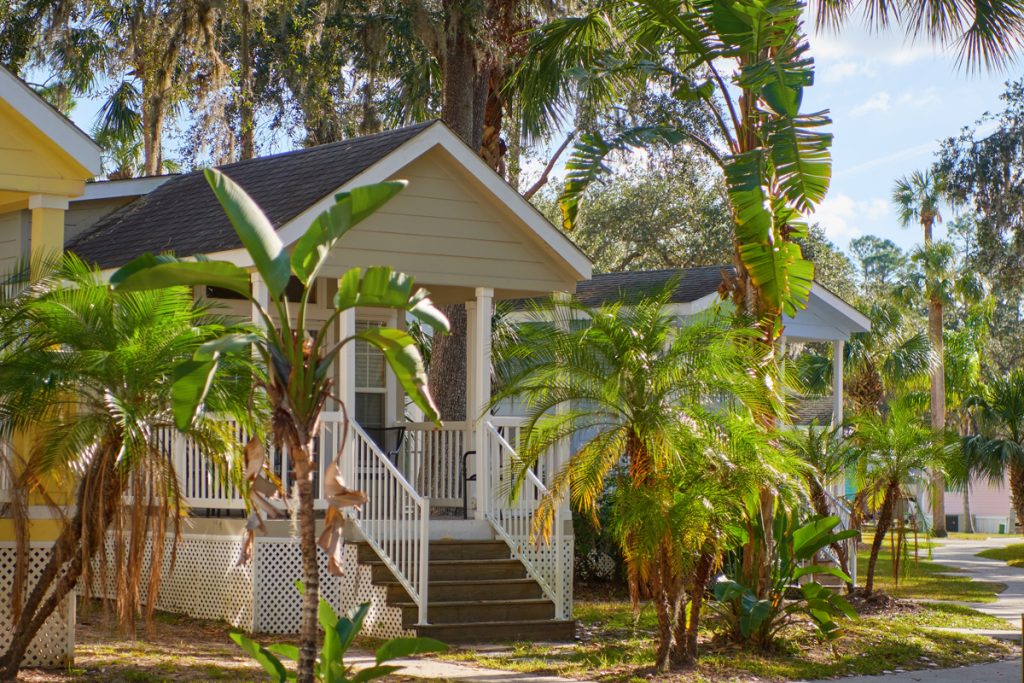 Visit the Goofiest Guy of All: Head to Orlando, Florida, and make a date with Goofy at Disney's Magic Kingdom. Goofy's full name is Goofy Goof and to find him at the Magic Kingdom visit Pete's Silly Sideshow tent. Goofy also is known to hang out at Epcot and participates in the Park's Festival of Fantasy Parade. Of course the Magic Kingdom is by nature a great place to goof off, so visiting with Goofy aside, there's plenty of things to do here that can be considered good for goofing off. Head to Tropical Palms in nearby Kissimmee, book a colorful cottage, and get your goofy on! Play Outside: Book a tiny house at Leavenworth's Tiny House Village and get ready to enjoy the outdoor playground in this great Washington State destination. The wonderful thing about Leavenworth is there are so many ways to play outside here from hiking to biking, fishing to ziplining, and so much more. Consider a guided horseback ride into the Cascades or a carriage ride around the quaint town. There may still be snow fun at Leavenworth Ski Hill or listen to live music, eat some great German food, and loaf the day away in Leavenworth.
Read More: