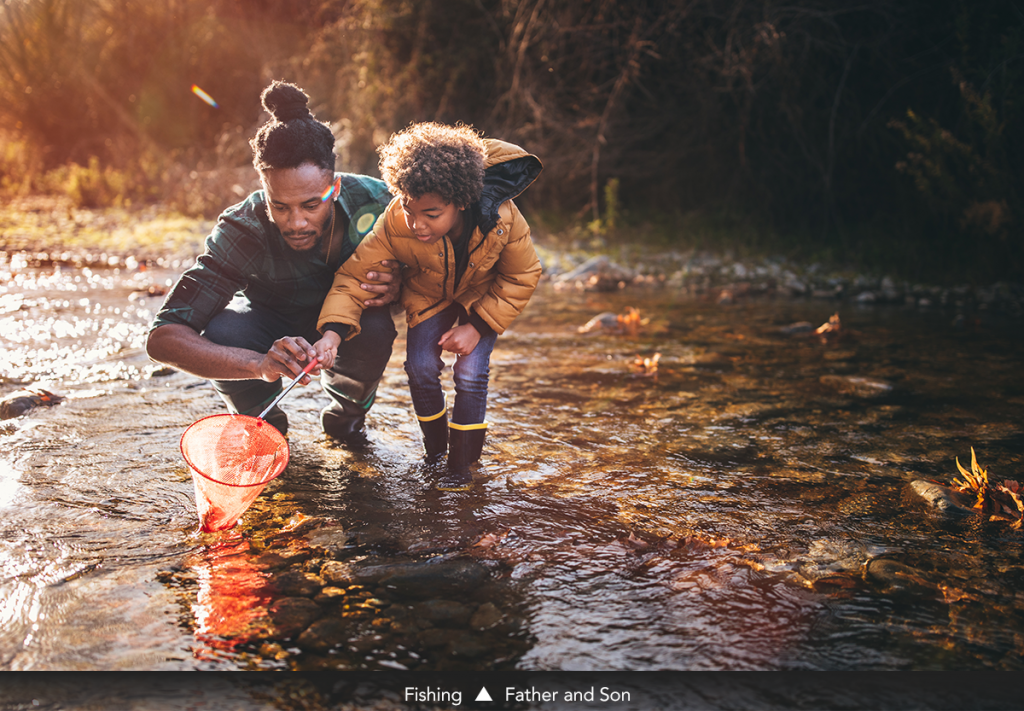 An official "Father's Day" has been celebrated in the US since the early 1900s but it wasn't until 1966 when President Lyndon Johnson issued a presidential proclamation designating the third Sunday in June as Father's Day.  In 1972, it became a permanent national holiday when President Richard Nixon signed the proclamation into law.
This year, Father's Day falls on Sunday, June 16, and Dads around the country will receive plenty of ties, golf balls, and pasta artwork to honor them. They will then most likely spend the day with family, partaking in some of their favorite pastimes, which include the following Dad-oriented activities:
Fishing: Whether it's a deep-sea adventure off our coastlines or taking a rod and reel to a local lake, plenty of dads will spend Father's Day trying to catch the big one. Top fishing spots in the US include the Florida Keys (tarpon, marlin, swordfish), North Carolina's Outer Banks (striped bass), Door County's Sturgeon Bay (bass), pier fishing at California's Santa Monica Pier (halibut and surfperch), and Fish Lake in Leavenworth, Washington (trout). Looking for a fishing spot near you? Visit www.takemefishing.org.


Beer: Yes, for some reason dads and beer seem to go together. Whether it's a refreshment after yard work or a side dish while watching sporting events, beer = Dad's drink of choice many times. Consider spending the day touring a craft brewery.
Deschutes Brewery in Bend, Oregon, has both a brewery tour option as well as a tasting room. Founded in 1988, Deschutes favorites include Black Butte Porter and Mirror Pond Pale Ale.  For info, visit www.deschutesbrewery.com.
First brewed in 1984, the Boston Beer Company's Samuel Adams Boston Lager might well be the brew that kicked off the modern craft brewing trend. Tours of the company's Boston brewery are available Monday through Saturday but you can bring Dad back on Sunday to enjoy the Tap Room. For tour info and hours, visit www.samueladams.com.
Baseball: On Father's Day, Major League Baseball teams around the country will wear specially-designed uniforms accented with light blue to honor Dads. Additionally, a symbolic blue ribbon will be worn on all uniforms to raise funds and awareness for prostate cancer. The MLB has partnered with the Prostate Cancer Foundation since 1996. Match-ups this Father's Day include California Angels vs. the Tampa Bay Rays in Tampa, Texas Rangers vs Cincinnati in Cincinnati, and the Arizona Diamondback vs. the Washington Nationals in Washington.
Cars: From building model cars to tinkering under the hood of a real car, the male species has always had a fascination with the automobile since they first arrived on the American scene in the late 1800s. Take a drive and visit an automobile museum.
The Antique Automobile Club of America Museum (Hershey, Pennsylvania) is open daily and has a collection of cars, buses, and motorcycles dating from the 1890s to the 1980s. It has 3 of the only 50 Tucker automobiles produced in 1948. Museum information can be found at www.aacamusuem.org.  The Henry Ford Museum (Dearborn, Michigan) offers a Ford Rouge Tour which details the history of the automotive industry and gives visitors an inside look at how the Ford F150 truck is built. Visit www.thehenryford.org for details on the museum's other exhibits as well as admission prices and hours of operation. On the West coast, check out the Peterson Automotive Museum, in Los Angeles, California. The museum has more than 300 vehicles on display and a current exhibit, Hollywood Dream Machines, which features vehicles from Hollywood's science fiction and fantasy productions.  Visit www.peterson.org for more information.