Even if you live in a climate that tends toward warmer fall and winter temperatures, there's nothing like a beach in the summer. Before the weather changes, make it a point to hit the beach to get in a healthy dose of summer sun and summer fun.
Take in a tiny home at Tuxbury Tiny House Village in South Hampton, New Hampshire, and you'll have several beaches upon which to soak up the last days of summer. There are five New Hampshire state beaches (Wallis Sands, Jenness, Hampton, North Beach, and North Hampton). Hampton is probably the most popular with its boardwalk, but Wallis sands offers views of the Isles of Shoals and Jenness is quieter. If these aren't enough, head over to the nearby beaches in Massachusetts and take in a few more. There's Plum Island Beach in Newbury that has the added bonus of the Parker River National Wildlife Refuge, home to over 800 species of birds, plants, and animals. Salisbury Beach State Reservation is a beach contained within a 521-acre park with swimming, fishing, and boating opportunities in addition to the 3.8-mile beach.
Long Beach, Washington, is billed as the world's longest beach, or so reads the archway that welcomes visitors to this Pacific Coast beach. It is most likely the longest contiguous beach in the US, running 28 miles. It may very well be one of the US beaches with the most things to do besides just being beachy. There are many things to see here beside water and sand. There's a chainsaw art whale sculpture, a half mile boardwalk, bald eagle and golden eagle sightings, and shells and sand dollars. To dos include kite flying, horseback riding, surfing, surf fishing, and catching a glorious sunset or two. Rent a yurt at Long Beach RV & Camping Resort and spend your days at the beach and your nights at camp with us.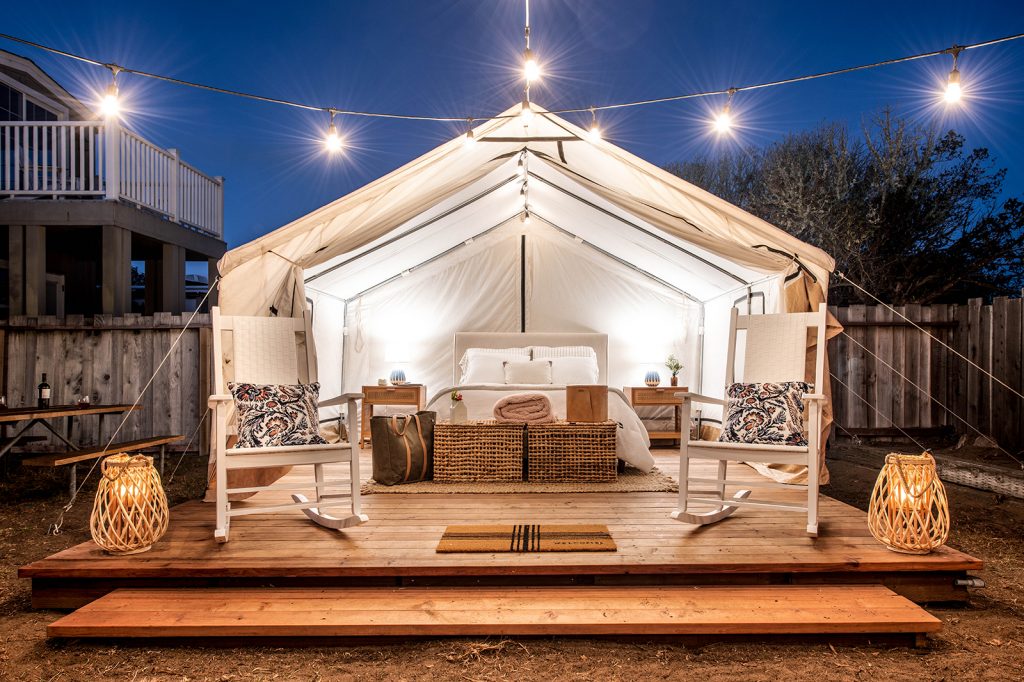 Go glamping and enjoy the beach at all once with a stay at Marina Dunes on California's Monterey Peninsula. Head down the coast (about 37 miles) and explore Big Sur and the iconic Pfeiffer Beach, known for its purple sand. The beach's purple streaks come from the manganese garnet deposits that wash down from the surrounding hills. Another highlight of Pfeiffer Beach are the natural arches – of which Keyhole Rock is one of the most photographed. Pfeiffer Beach is best enjoyed from the sand and the ocean waters are known for their strong tides and heavy waves. Nearer to camp is Monterey State Beach or Fort Ord Beach, with its sea lions, seals, and shorebirds.
Although the state is at its hottest during the summer months, the beaches in Florida tend to be less crowded during this season and with an ocean to cool off in, what's a little heat? An ideal place to soak up some Florida beach time is with a stay at a colorful cottage at Fiesta Key on Long Key or a sweet tiny home at Sunshine Key Tiny House Village on Big Pine Key. Both resorts are fabulous beach locations and have plenty of amenities onsite to enjoy beachside. An added bonus at Sunshine Key is that they have partnered with Keys Boat Tours, a Blue Star Operator, that not only rents kayaks and stand-up paddleboards, but also runs fishing charters and snorkeling tours opportunities from the resort. Another great beach on Big Pine Key is the beach at Bahia Honda State Park. Smathers Beach on Key West is another highly popular beach and Cannon Beach, found in John Pennekamp Coral Reef State Park, located on Key Largo, has remnants of an early Spanish shipwreck just offshore.
Read More: